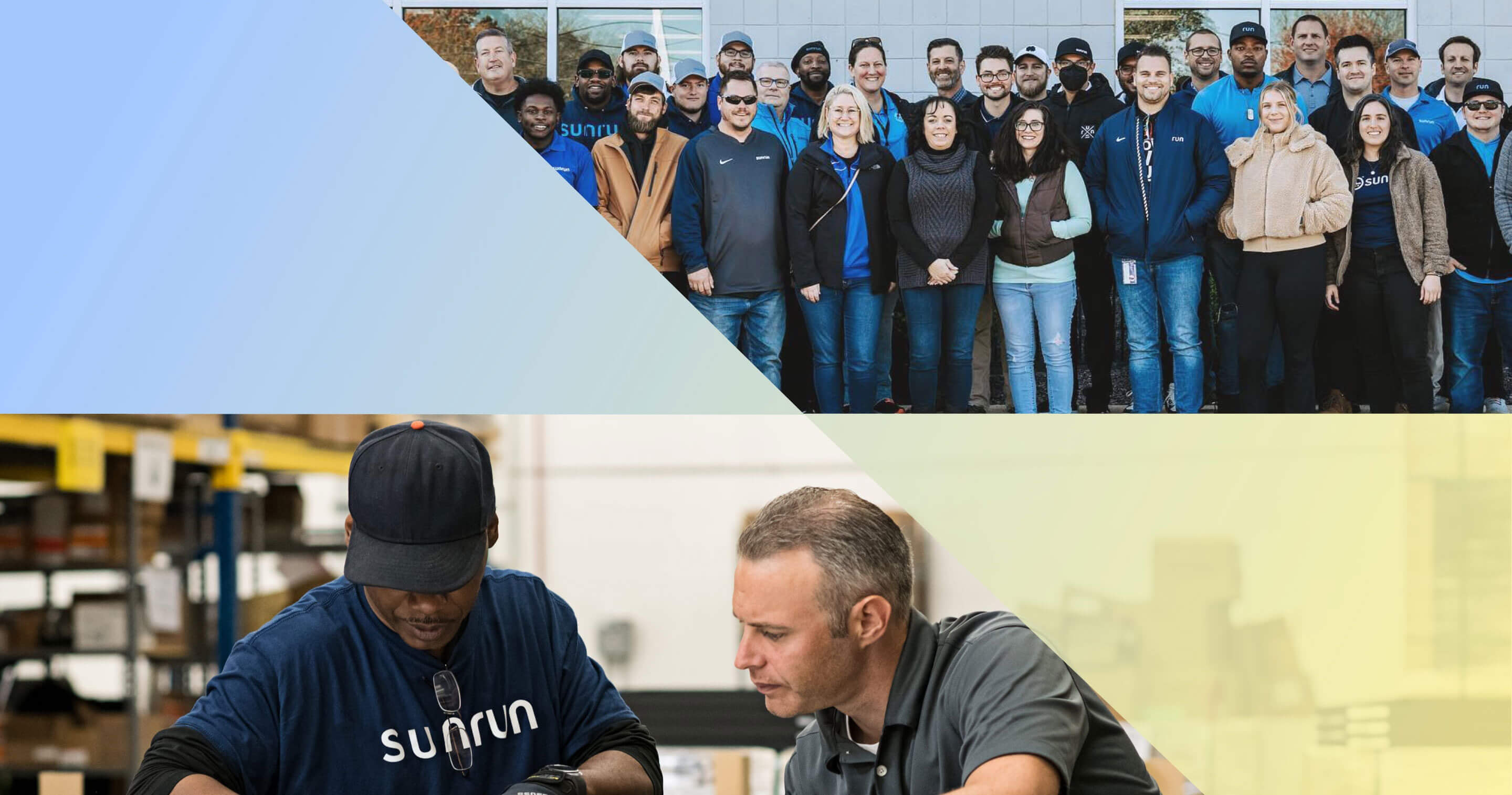 Manager, Software Engineering, Workflow
Location

Remote
Category

Technology
Job ID

R14831
Everything we do at Sunrun is driven by a determination to transform the way we power our lives. We know that starts at the individual employee level. We strive to foster an environment you can thrive in through our commitment to diversity, inclusion and belonging.
Overview
Sunrun's Design, Engineering, and Financial Services organization is seeking a Software Engineering Manager to lead innovation for a new team developing software to manage and automate the lifecycle of customer projects from sales to installation. Sunrun designs and deploys residential solar-powered energy solutions at a massive scale. We're really good at this, and now we need you to help us get better.

The complexities of designing and delivering these solutions to unique homes and properties are extremely challenging – we have all the problems of an energy company and a custom construction firm.  Here are just a few of the problems you'll help us solve:
How do we design flexible and intuitive commerce APIs and operations for the wide range of products and services Sunrun provides?  Unlike most other online shopping experiences, you can't just add "solar power" to your shopping cart and check out.  Or can you?
How do we create the right separation of concerns so that our expert design engineers and construction planners can ensure a successful and efficient installation?
How do we optimize project fulfillment to get value to customers as soon as possible?  How do we break up complex orders to install the car charger we have in stock today while we wait for other components?
How do we support retrofits, add-ons, and other common construction projects as part of a long term relationship with our customers?
Any given project could be worked on by a dozen teams across functions from finance to construction planning.  We need you to develop the custom software systems that manage these workflows, providing a consistent and reliable abstraction over complex coordination details.  Your work will power Sunrun, so Sunrun can power our customers' daily lives!
About you:
You're a full-stack owner and are adept at guiding your team to create simple, intuitive, and reliable abstractions over complicated human and automated processes -- you understand how to create software systems that manage complexity so humans don't have to.  You deeply appreciate the value of business agility, and know how to design flexible software systems that support rapid pivots to tackle new opportunities while minimizing technical debt.   You relentlessly focus on operational excellence because when your software is down, Sunrun can't serve our customers -- you sweat the details and lead your team to do the same.  You're passionate about power, energy, and renewables and are excited to define software systems and processes that accelerate the deployment of new solar power systems. You build high performing teams by putting in place the right structures to guide your engineers to deliver independently and consistently, while being a champion for sustainable, human-centered software engineering practices.  

Worried about making the change to work in solar power?  Don't be!  We're looking for strong, motivated, people-oriented engineering leaders who are excited to deliver products that fight climate change; we're happy to teach you everything you need to (or want to) know about the renewables industry.
Responsibilities
Lead a full-stack team of software and QA engineers in the development of the software systems that enable our expert Photovoltaic System Designers, Electrical Engineers, and Structural Engineers to create accurate, code-compliant systems with a minimum of effort. 
Collaborate with product management and your commercial and technical stakeholders to create software products that are not just viable, but lovable.  
Define the short and long term strategy for your team, including how your software and people will need to grow and change to meet emerging business needs and industry trends.  

Qualifications
Bachelor's degree in computer science or a related field, or equivalent work experience
8+ years of experience in software development, including 3+ years of experience directly managing a team of software engineers
Please note that the compensation information that follows is a good faith estimate for this position only and is provided pursuant to acts, such as The Equal Pay Transparency Act. It assumes that the successful candidate will be located in markets within the United States that warrant the compensation listed. Candidates in locations outside this local area may have a different  starting salary range for this opportunity which may be higher or lower.  Please speak with your recruiter to learn more.
The starting salary/wage for this opportunity is: $161,142 to $207,152.
Other rewards may include annual bonus eligibility, which is based on company and individual performance, short and long term incentives, and program-specific awards.  Sunrun provides a variety of benefits to employees, including health insurance coverage, an employee wellness program, life and disability insurance, a retirement savings plan, paid holidays and paid time off (PTO). A candidate's salary history will not be used in compensation decisions. 
Recruiter:
Kristina Sedjo (kristina.sedjo@sunrun.com)
This description sets forth the general nature and level of the qualifications and duties required of employees in this job classification, as well as some of the essential functions of this role.  It is not designed to be a comprehensive inventory of all essential duties and qualifications. If you have a disability or special need that may require reasonable accommodation in order to participate in the hiring process or to perform this role if you are offered employment, please let us know by contacting us at candidateaccomodations@sunrun.com.
Sunrun is proud to be an equal opportunity employer that does not tolerate discrimination or harassment of any kind. Our commitment to Diversity, Inclusion & Belonging drives our ability to build diverse teams and develop inclusive work environments. At Sunrun, we believe that empowering people and valuing their differences will help us create a planet run by the sun for everyone. We are committed to equal employment opportunities without consideration of race, color, religion, ethnicity, citizenship, political activity or affiliation, marital status, age, national origin, ancestry, disability, veteran status, sexual orientation, gender identity, gender expression, sex or gender, pregnancy or any other basis protected by law. We also consider qualified applicants with criminal convictions, consistent with applicable federal, state and local law.