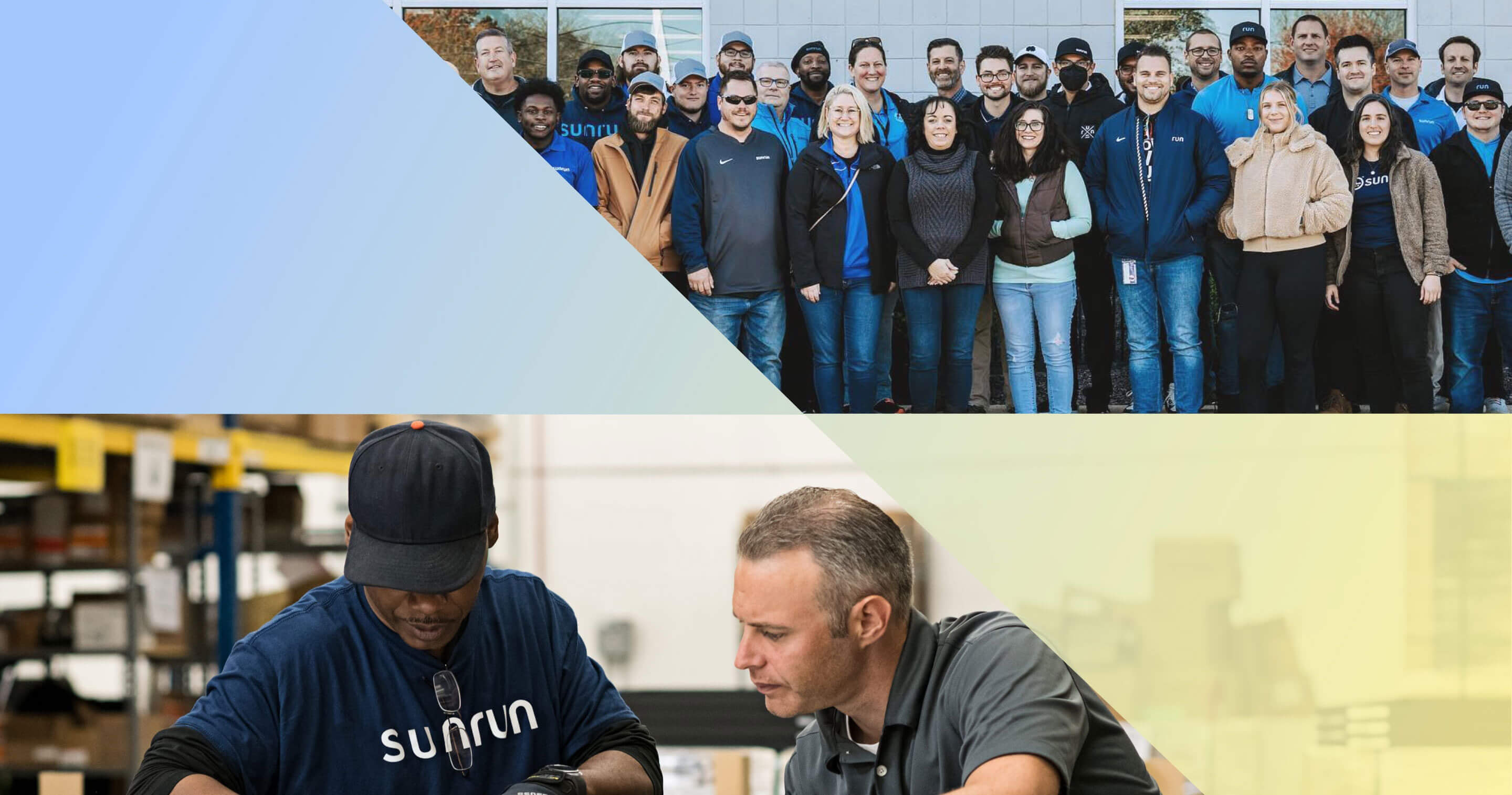 Principal Program Manager, Technology
Location

Remote
Category

Technology
Job ID

R18688
Everything we do at Sunrun is driven by a determination to transform the way we power our lives. We know that starts at the individual employee level. We strive to foster an environment you can thrive in through our commitment to diversity, inclusion and belonging.
Who We Are
As the largest dedicated residential solar company in the U.S, Sunrun installs $2 million worth of solar technology daily at a rate of one solar installation every 10 minutes. That's a big effort, and it requires a team of top performers to keep it sustained and growing. On the Sunrun software engineering team, we offer opportunities to sharpen your skills, push your limits, and uncover your potential. We believe that engineers should always feel relevant, be recognized, and have measurable goals. We believe in having a ton of fun while holding true to our values. Couple all of that with some pretty incredible benefits and you'll see why Sunrun is stacking up workplace awards. We are literally working to change the world and revolutionizing the way people use renewable energy. Join us in our mission to create a Planet Run by the Sun.
About Sunrun Software Product and Program Management:
The Sunrun Software Product and Program Management teams play a critical role in our company's success by collectively owning and evolving our industry leading software products, including our e-commerce platform, point of sale platform, and customer-facing app. These products are powered by domain-level innovations across the customer experience - from solar energy system design and payments, to communications and our data platform, and everything in between.
The newly-forming Program Management function on the Technology team is a small but mighty set of leaders who will be driving the delivery of the most impactful programs on the technology team.  
For the next year, this Principal Program Manager will be leading the effort to create an agile, flexible, and robust software solutions to onboard, sell, install/fulfill, and finance hardware products that support the evolution of our home electrification offerings. Sunrun is already playing a leading role in the transition towards home electrification, with a product suite that includes battery storage, EV chargers, smart panels. This additional flexibility will allow Sunrun to continue to grow our offerings and the category that we play in, ultimately enabling millions of homeowners to have more resilient, comfortable and smart homes.  This person will coordinate the multiple technology teams to ensure an on-time and high quality delivery, while staying in close touch with key stakeholders around the strategy, sales, and operations organizations.  This role reports directly to the Chief Technology Officer, along with two other senior Technology Program Managers.
As this program winds down, this leader will take on program management leadership of the next set of large cross-team initiatives for the Technology team.
ESSENTIAL DUTIES AND RESPONSIBILITIES 
Drives the roadmap and timelines for large initiatives

Owns the on-time and high quality delivery of major programs assigned across multiple technology teams and non-technology stakeholders.  May include planning/delivery and change management across non-technology teams.

Clearly communicates current program status and actively manages stakeholders for clear understanding. 

Collaborates and builds buy-in from senior, cross-functional stakeholders including technology, strategy, and operations.

Translates high-level product vision or problem statement into actionable solutions and projects by collaborating with underlying Product Managers across multiple products. May work with other Product Managers to create detailed requirements and user stories. Manages product backlog and sprints.

Possesses enough commercial and technical depth to effectively guide effort vs. impact tradeoffs in collaboration with engineers, engineering managers, peer TPMs and product leadership. 

Serves as a champion of Sunrun's customers. Pushes boundaries to unearth customer needs and deliver value based on novel understanding and insight.

Evangelizes domain vision, strategy and roadmap with various functional groups across Sunrun and drives excitement across the organization

May require travel up to 20-30% of the time
REQUIREMENTS (EDUCATION, EXPERIENCE, CERTIFICATIONS, AND OTHER SKILLS)
Education: Bachelor's degree (or equivalent). 

Experience: Minimum of 12-15 years of work experience as a Technology Program Manager. No solar experience needed.

Communication and listening: Clearly communicates current state including risks and major decisions in the program.  

Ownership and Accountability: Takes full accountability for and drives results for their domain and projects and holds the responsible parties accountable for delivering their portion of programs. Works with leadership and cross-functional stakeholders to get projects prioritized and efforts mobilized to ensure the necessary outcomes. Has a mindset of accountability and ownership and sets the right standard within their team, incl. establishing and holding stakeholders to an operating cadence. 

Technical Judgment: Technical leader who can effectively drive the right effort vs. impact tradeoff decisions. Understands the technical tradeoffs that need to be made in order to unblock key technology teams and can communicate the impacts of those decisions to a non-technical audience.

Leadership: Inspires trust and confidence with our cross-functional peers, our team and their leadership. Highly effective team leader who drives process hygiene and project execution. Contributes to a winning culture and leads by example. 

Customer Obsession: Has high degree of customer empathy and drive to understand customers; uses insight to guide product priorities and solution definition. Understands and executes with a design-led process and mentality.

Product and business judgment: Contextualizes business decisions across company, industry and all stakeholders. Holds a balanced perspective with an appreciation for risks, rewards and execution. Can articulate decisions, highlight risks and operate with a balanced view of decisions. 

Adaptability: Adjusts quickly to changing priorities and conditions; anticipates and copes effectively with the complexity of change
PHYSICAL DEMANDS
Ability to perform normal office duties.

Ability to operate office equipment including computers and determine accuracy of work.

Ability to interact and participate in meetings.
Please note that the compensation information that follows is a good faith estimate for this position only and is provided pursuant to acts, such as The Equal Pay Transparency Act. It assumes that the successful candidate will be located in markets within the United States that warrant the compensation listed below.  Similar positions located outside of these locations will not necessarily receive the same compensation. Please speak with your recruiter to learn more.
The salary range for this opportunity is $202,136.00 to $259,851.00. Other rewards may include annual bonus eligibility, which is based on company and individual performance, short and long term incentives, and program-specific awards.  Sunrun provides a variety of benefits to employees, including health insurance coverage, an employee wellness program, life and disability insurance, a retirement savings plan, paid holidays and paid time off (PTO). A candidate's salary history will not be used in compensation decisions. Please speak with your recruiter to learn more.
Recruiter:
Meghana Chokshi (meghana.chokshi@sunrun.com)
This description sets forth the general nature and level of the qualifications and duties required of employees in this job classification, as well as some of the essential functions of this role.  It is not designed to be a comprehensive inventory of all essential duties and qualifications. If you have a disability or special need that may require reasonable accommodation in order to participate in the hiring process or to perform this role if you are offered employment, please let us know by contacting us at candidateaccomodations@sunrun.com.
Sunrun is proud to be an equal opportunity employer that does not tolerate discrimination or harassment of any kind. Our commitment to Diversity, Inclusion & Belonging drives our ability to build diverse teams and develop inclusive work environments. At Sunrun, we believe that empowering people and valuing their differences will help us create a planet run by the sun for everyone. We are committed to equal employment opportunities without consideration of race, color, religion, ethnicity, citizenship, political activity or affiliation, marital status, age, national origin, ancestry, disability, veteran status, sexual orientation, gender identity, gender expression, sex or gender, pregnancy or any other basis protected by law. We also consider qualified applicants with criminal convictions, consistent with applicable federal, state and local law.