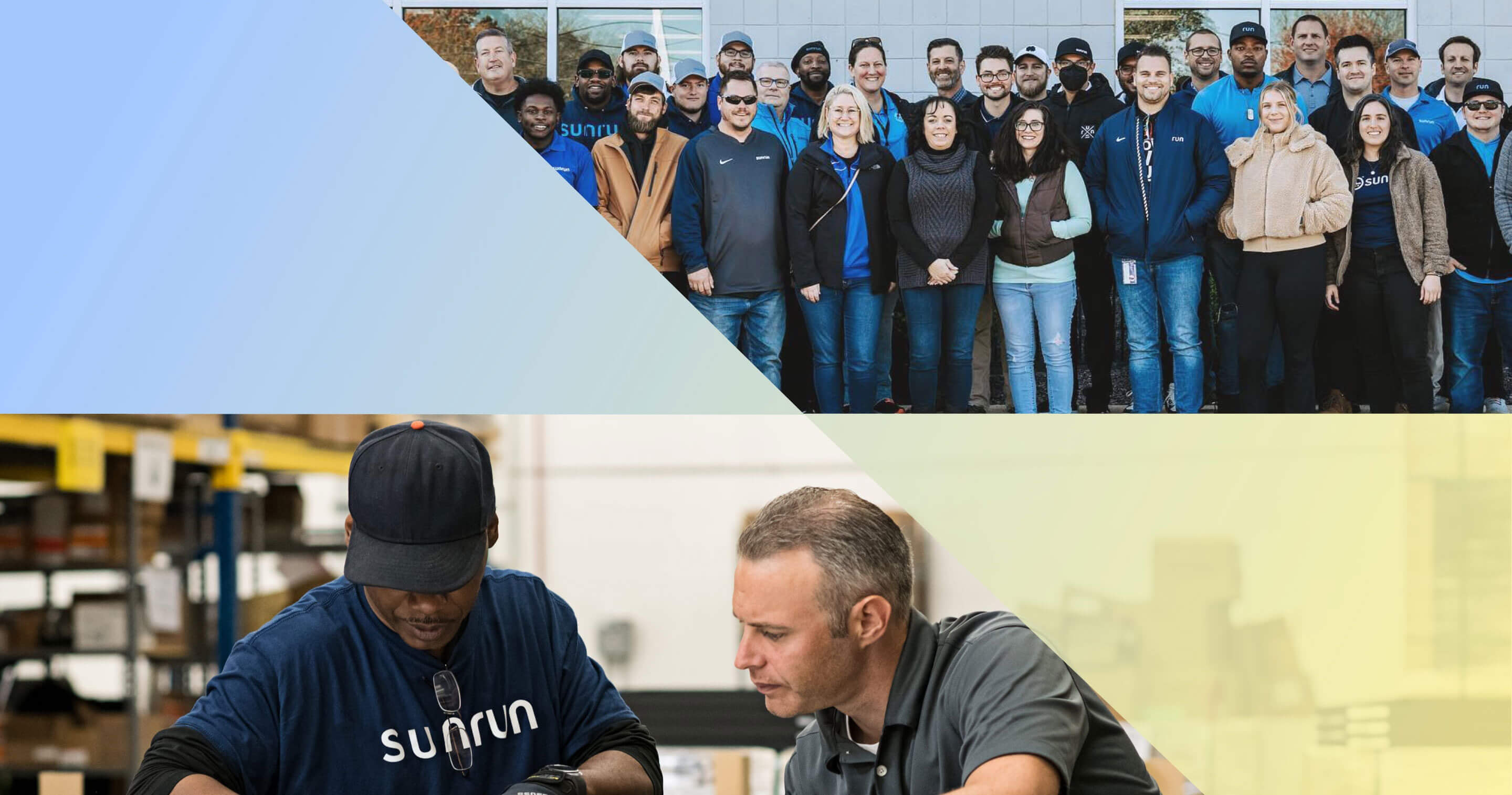 Staff Software Engineer (React Native)
Location

Remote
Category

Technology
Job ID

R21950
Everything we do at Sunrun is driven by a determination to transform the way we power our lives. We know that starts at the individual employee level. We strive to foster an environment you can thrive in through our commitment to diversity, inclusion and belonging.
Everything we do at Sunrun is driven by a determination to transform how we power our lives. We know that starts at the individual employee level. We strive to foster an environment you can thrive in through our commitment to diversity, inclusion, and belonging.
Overview
Want to be part of the team that is building the newest consumer electrification product for our customers? Striving to have a measurable impact on one of humanity's biggest challenges? We're hiring high-achieving software engineers to help our systems keep up with daunting growth rates. Here, you'll work alongside passionate engineers designing and developing how Sunrun customers view their home's sustainable energy usage and generation. As a Staff Software Engineer, you'll develop and maintain our full-stack app with frontend and backend opportunities. We build our app with React Native and aggregate data from our data warehouse and CRM teams with AWS serverless Node.js Lambdas. Feature development will include creating the ability to view solar systems, EV chargers, impact reporting, billing systems, and much more. 
On a day-to-day basis, someone in this position might attend a few strategic planning meetings, but will spend most of their time designing solutions to problems through code; planning with tech leads; collaborating with other developers; debugging any issues that have been prioritized; and researching ways to improve process and infrastructure.
Responsibilities
Lead, mentor, and build skills across the team through practical standards setting, code reviews, and pairing

Help establish the standards for the team in areas of technical excellence

Operate as a team architect by creating architectural plans or reviewing those from Senior members of the team

Work collaboratively with Tech Leadership and Product Management to develop applications that can be tested easily and will perform well under a variety of conditions

Champion adherence to best practice development methodologies

Facilitate automated testing so all teams can innovate at a rapid pace
Qualifications
Strong technical leadership skills with prior experience operating as a lead over a team or designated architect. Passion for unblocking others.

Minimum of 6 years of experience developing complex enterprise applications with JavaScript/TypeScript

Experience in mobile application design and implementation; experience with Native Android/IOS, or React Native

Experience building and troubleshooting multi-layered backend systems built with Node frameworks 

Skilled in SQL and NoSQL data stores such as BigQuery, Elastic, DynamoDB, and Redis.

Strong knowledge of HTML5 (DOM, markup, browser APIs) and CSS3 (SASS preprocessor, OOCSS, modular)

Skilled with writing unit and integration tests in JavaScript using Jest or Playwright

Ability to work with JS build/task runners like Webpack, Gulp, Grunt, and NPM run scripts

Strong knowledge of Git-based version control, branching strategies, merging, and rebasing

Knowledge of automation for continuous integration and deployment

Familiarity with cloud-based infrastructures like AWS, GCP, or Azure. Preference for AWS with experience in S3, CloudFront, Lambdas, API Gateway.

Performance optimization experience including browser page rendering, network traffic, and back-end system tuning

Bias toward mentorship and skill-building

Excellent communication skills

Good team player
Please note that the compensation information that follows is a good faith estimate for this position only and is provided pursuant to acts, such as The Equal Pay Transparency Act. It assumes that the successful candidate will be located in markets within the United States that warrant the compensation listed. Candidates in locations outside this local area may have a different  starting salary range for this opportunity which may be higher or lower.  Please speak with your recruiter to learn more.
The starting salary/wage for this opportunity is: $169,184 to $217,523.
Other rewards may include annual bonus eligibility, which is based on company and individual performance, short and long term incentives, and program-specific awards.  Sunrun provides a variety of benefits to employees, including health insurance coverage, an employee wellness program, life and disability insurance, a retirement savings plan, paid holidays and paid time off (PTO). A candidate's salary history will not be used in compensation decisions. 
Recruiter:
Kristina Sedjo (kristina.sedjo@sunrun.com)
This description sets forth the general nature and level of the qualifications and duties required of employees in this job classification, as well as some of the essential functions of this role.  It is not designed to be a comprehensive inventory of all essential duties and qualifications. If you have a disability or special need that may require reasonable accommodation in order to participate in the hiring process or to perform this role if you are offered employment, please let us know by contacting us at candidateaccomodations@sunrun.com.
Sunrun is proud to be an equal opportunity employer that does not tolerate discrimination or harassment of any kind. Our commitment to Diversity, Inclusion & Belonging drives our ability to build diverse teams and develop inclusive work environments. At Sunrun, we believe that empowering people and valuing their differences will help us create a planet run by the sun for everyone. We are committed to equal employment opportunities without consideration of race, color, religion, ethnicity, citizenship, political activity or affiliation, marital status, age, national origin, ancestry, disability, veteran status, sexual orientation, gender identity, gender expression, sex or gender, pregnancy or any other basis protected by law. We also consider qualified applicants with criminal convictions, consistent with applicable federal, state and local law.
Jobs
for You
Energy Sales Retail Associate

Direct Sales

Dublin, California

Field Sales Consultant

Direct Sales

Pawtucket, Rhode Island, Town of Westerly, Rhode Island, Woonsocket, Rhode Island, Hopkinton, Rhode Island, Kingston, Rhode Island, Providence, Rhode Island, East Greenwich, Rhode Island, Middletown, Rhode Island, Smithfield, Rhode Island, Newport, Rhode Island, Warwick, Rhode Island, North Kingstown, Rhode Island, Coventry, Rhode Island, Johnston, Rhode Island

Field Sales Consultant

Direct Sales

Pittsfield, Massachusetts, Greenfield, Massachusetts, Northampton, Massachusetts, Springfield, Massachusetts