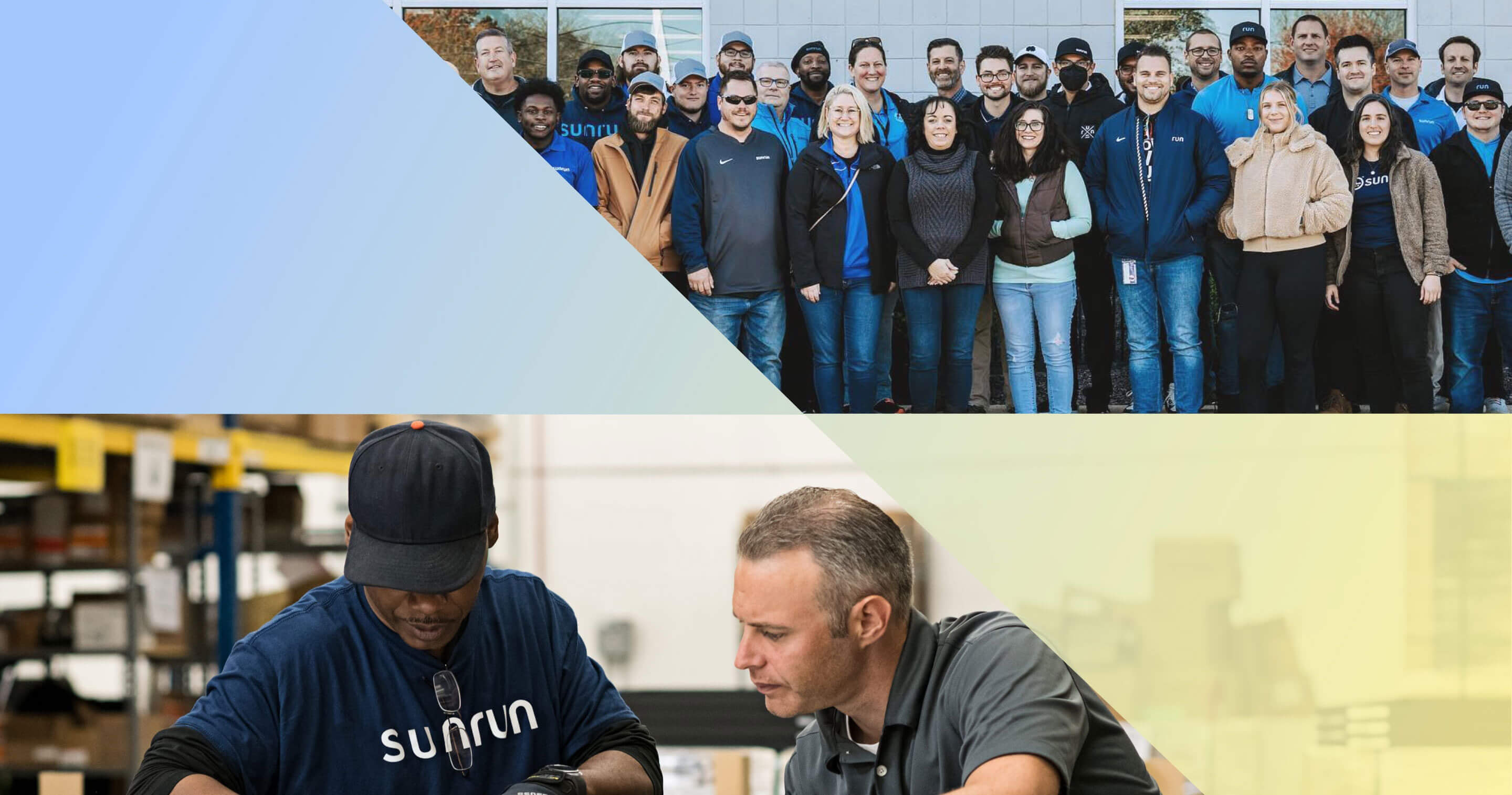 Staff Technical Product Manager, Grid Services
Location

Remote
Category

Technology
Job ID

R17257
Everything we do at Sunrun is driven by a determination to transform the way we power our lives. We know that starts at the individual employee level. We strive to foster an environment you can thrive in through our commitment to diversity, inclusion and belonging.
Overview
The Sunrun Software Product Management team plays a critical role in our company's success by collectively owning and evolving our industry leading software products, including our e-commerce platform, point of sale platform, and customer-facing app. 
Sunrun's Grid Services business, where we build Virtual Power Plants (VPPs) with our solar & battery systems, is one of the most captivating opportunities at our company and in the clean energy industry. VPPs are a major lever to decarbonize and harden our grid, as they enable on-demand clean energy to replace existing dirty power plants and supplement grid capacity to help utilities avoid blackouts. The resulting economic opportunity for Sunrun and our customers is also exciting, as these Grid Services are valuable and compensated for by utilities. Accessing this opportunity requires a large battery fleet and many bilateral contracts with utilities; Sunrun is a market leader on both of these dimensions.
Sunrun's Grid Services platform is the central piece of software that allows us and our customers to participate in these programs, deliver major benefits to the electric grid and be compensated as such. The beauty of this product, and the bulk of work to make it successful and differentiated, is in the details. Underneath a seemingly simple set of API connections between Sunrun, our customers and their devices, and utilities lies a complex set of logic, processes and systems that allow us to set up new programs, enroll customers, track and report performance, get paid and surface important data to customers about their systems. Over time, we aspire to build our Grid Services platform into a top-notch IoT platform that allows us to do all of the above for future devices beyond solar and batteries (think: Electric Vehicles, thermostats, etc.).
If you are looking to apply your rich set of B2B SaaS platform product experiences to address climate change and drive the decarbonization of millions of homes, this is the right role for you.
As the Staff Product Manager for Grid Services, you will have the opportunity to meaningfully contribute to the definition and delivery of a best-in-class product and experience. Your scope will be broad and deep, spanning from product vision to implementing new Grid Services functionality for customers and utilities, to incorporating our future evolution into electrification products, to being the primary touchpoint when there are issues or questions, and everything in between. 
You will leverage consumer insights, market needs, and an understanding of our cross-channel go-to-market and product set (including solar, storage and future devices, and underlying software stack) to evolve our Grid Services platform. You will solve real customer problems by creating delightful product features and enhancements that direct impact our KPIs, work cross-functionally to gain alignment and excitement through stakeholder input, and continuously evolve the product through an agile product management approach. 
As the Staff Product Manager for Grid Services, you will work closely with senior stakeholders and top executives across the business, incl. Business Development, Operations, Customer Care, HW & SW Product, and Engineering. Due to the highly interdisciplinary nature of this role, and the cross-functional impact of the changes you will drive, you will need to be a respected leader who can effectively communicate, collaborate and coalition-build. The Staff Product Manager role is among the most challenging and rewarding at Sunrun. We are looking for a highly talented and driven individual who is excited to take on this challenge.
ESSENTIAL DUTIES AND RESPONSIBILITIES 
Owns the Grid Services problem space, business and product requirements, prioritization and definition of work for the development teams, and results delivery for our Grid Services platform. Has a mission to redefine what it means to have the best platform in the industry, improving value for Sunrun, our customers and our utility partners.

Formulates new, innovative ideas to enhance our platform and end-to-end experience. Builds buy-in from senior stakeholders and executives, and aligns cross-functional teams, around a roadmap. Ensures that our company executes against our platform roadmap with excellence. Drives a mindset of accountability and ownership within their broader team, incl. establishing and holding stakeholders to an operating cadence. 

Possesses enough commercial and technical depth to effectively guide effort vs. impact tradeoffs for the customer app in collaboration with senior engineering leaders, senior business leaders and external counterparties.

Understands how our platform and processes interact with and unlock value across Sunrun's business, including how they intersect with our cross-channel go-to-market, operational fulfillment, and our product portfolio and tech stack. Seamlessly integrates platform and process improvements with the rest of our business.  

Serves as the champion of Sunrun's customers. Through their work on the Grid Services platform, expands Sunrun's understanding of customers (incl. consumers and utility customers) and markets and applies that understanding across the company. Pushes boundaries to unearth customer needs and deliver value based on novel understanding and insight.

Evangelizes product, platform, strategy and roadmap with various functional groups across Sunrun and drives excitement across the organization
REQUIREMENTS (EDUCATION, EXPERIENCE, CERTIFICATIONS, AND OTHER SKILLS)
Education: Bachelor's degree (or equivalent). Computer science degree not required, but highly valued. 

Experience: Minimum of 10+ years total professional experience with 5+ years of Product experience. Prefer candidates with 2+ years in a high visibility role driving app products and experiences. E-commerce experience not required but highly valued. No solar experience needed.

Leadership: inspires trust and confidence with executives, our cross-functional peers and our team. Builds a winning team, from culture and people, to processes and project execution. Projects influence across the company to empower and enable the team to deliver the right results in the right way. 

Ownership and Accountability: Takes full accountability for and drives results for portfolio x-functionally and works across the organization top-to-bottom to get projects prioritized and efforts mobilized to ensure the necessary outcomes. Drives a mindset of accountability and ownership within their broader team, incl. establishing and holding stakeholders to an operating cadence. 

Innovative Mindset: Develops strategies to bring new technologies, applications and process changes to life. Challenges the organization in innovating and designing new solutions, methods and products to remain competitive and lead the industry. Creates an environment that champions innovation by encouraging others to openly share and build on each other's new ideas, products and solutions.

High Standards: expects personal performance and team performance to be nothing short of the best 

Strategic Executor:Sees and evangelizes the big picture, but is disciplined in rationalizing our ambitious goals with realities of prioritization and day-to-day execution. Executes seamlessly across teams, company and outside the company, including driving top to bottom alignment on project and company-level priorities (when needed). Drives resolution of escalated blockers for the team.

Customer Obsession: has high degree of customer empathy and drive to understand customers; uses insight to guide product priorities and solution definition. Effective evangelist of design-led thinking across RUN.

Product and business judgment: Contextualizes business decisions across company, industry and all stakeholders. Holds a balanced perspective with an appreciation for risks, rewards and execution. Effectively navigates ambiguity in decision making.

Technical Judgment: Expert who has enough technical depth to t-shirt size most projects independently, can work closely with the engineering team to scope the most complicated technical projects, and own and drive the right technical vs. business tradeoffs at the highest levels of the org. 

Problem Solving: Quickly and effectively synthesizes and solves complex, interdependent problems, understanding the end-to-end business implications of decisions. Leverages insight to drive clarity throughout the org and bring along others (incl. senior execs and large groups of stakeholders) along in the process. Can articulate decisions, highlight risks and operate with a strong, balanced view of decisions. 

Communication and listening: Compelling storyteller. Succinctly and effectively deliver the point, with the right tone and content for the audience and the moment, incl. CEO and board-level audience. Commands the room by communicating simply, clearly and powerfully. Attentive listener who seeks to understand others and actively seeks to incorporate new information.
Adaptability: adjusts quickly to changing priorities and conditions; anticipates and copes effectively with the complexity of change
Please note that the compensation information that follows is a good faith estimate for this position only and is provided pursuant to acts, such as The Equal Pay Transparency Act. It assumes that the successful candidate will be located in markets within the United States that warrant the compensation listed.  Candidates in locations outside this local area may have a different starting salary range for this opportunity which may be higher or lower. Please speak with your recruiter to learn more.
The starting salary for this opportunity ranges from $138,137.00to $202,561.00.
Other rewards may include annual bonus eligibility, which is based on company and individual performance, short and long term incentives, and program-specific awards.  Sunrun provides a variety of benefits to employees, including health insurance coverage, an employee wellness program, life and disability insurance, a retirement savings plan, paid holidays and paid time off (PTO). A candidate's salary history will not be used in compensation decisions.
Recruiter:
Daniel Slesnick (daniel.slesnick@sunrun.com)
This description sets forth the general nature and level of the qualifications and duties required of employees in this job classification, as well as some of the essential functions of this role.  It is not designed to be a comprehensive inventory of all essential duties and qualifications. If you have a disability or special need that may require reasonable accommodation in order to participate in the hiring process or to perform this role if you are offered employment, please let us know by contacting us at candidateaccomodations@sunrun.com.
Sunrun is proud to be an equal opportunity employer that does not tolerate discrimination or harassment of any kind. Our commitment to Diversity, Inclusion & Belonging drives our ability to build diverse teams and develop inclusive work environments. At Sunrun, we believe that empowering people and valuing their differences will help us create a planet run by the sun for everyone. We are committed to equal employment opportunities without consideration of race, color, religion, ethnicity, citizenship, political activity or affiliation, marital status, age, national origin, ancestry, disability, veteran status, sexual orientation, gender identity, gender expression, sex or gender, pregnancy or any other basis protected by law. We also consider qualified applicants with criminal convictions, consistent with applicable federal, state and local law.