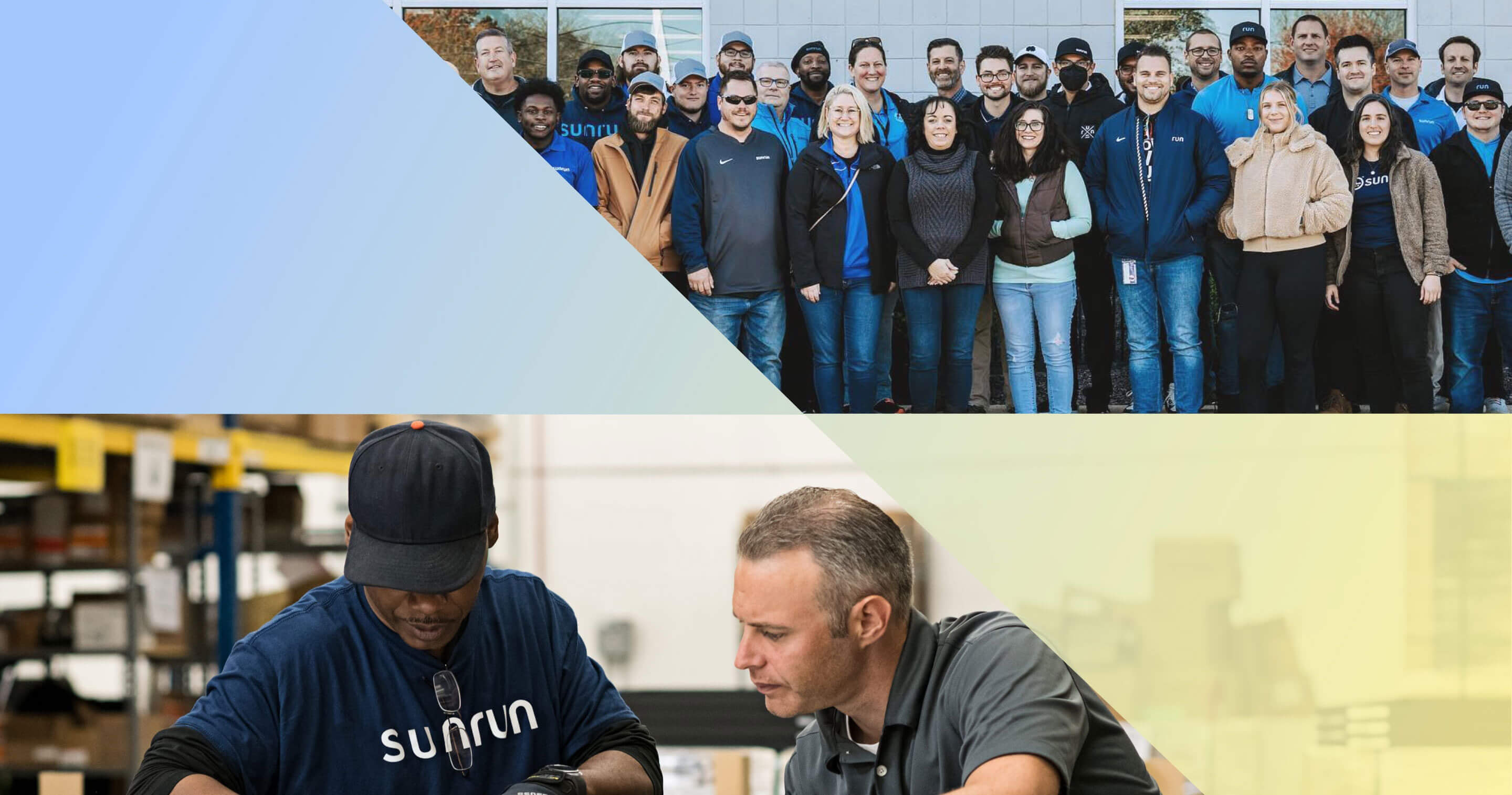 Corporate Communications Manager
Location

Lehi, Utah; San Francisco, California
Category

Marketing & Communications
Job ID

R18140
Everything we do at Sunrun is driven by a determination to transform the way we power our lives. We know that starts at the individual employee level. We strive to foster an environment you can thrive in through our commitment to diversity, inclusion and belonging.
Everything we do at Sunrun is driven by a determination to transform the way we power our lives. We know that starts at the individual employee level. We strive to foster an environment you can thrive in through our commitment to diversity, inclusion and belonging.
A renewable energy revolution is beginning to blossom into the world's largest industrial transformation since the personal computer. The aging and vulnerable electrical grid is rapidly being supplemented by rooftop solar and rechargeable batteries. That evolution is about to explode as drivers flock to EVs and fuel those cars with electricity from home, spiking demand for sustainable, reliable, and affordable electricity.  
Sunrun is in the driver's seat to lead this energy revolution as America's leading residential solar and renewable energy provider. The company's leadership team embraces a fast-paced, entrepreneurial mindset to seize this unique opportunity in history and position Sunrun as an aspirational, beloved technology consumer brand for a faster, cleaner, safer, easier, more efficient home of the future.
As Corporate Communications Manager, you will be responsible for promoting the brand's image through the creation and implementation of communication strategies that effectively convey the company's messaging to internal and external stakeholders. Your primary responsibility will be to assist in managing and expanding Sunrun's media relations program in order to increase brand exposure in local and national media. You will also collaborate with marketing team members and other business personnel to develop engagement strategies for customers, media personalities, and internal company employees.
The marketing team primarily works remotely, so this position can be located anywhere within the United States. Some travel may be required for in-person meetings. At Sunrun, we are passionately committed to our mission. We also nurture a collaborative and inclusive culture that welcomes diverse backgrounds and perspectives. The company provides generous compensation and benefits, including medical plans, 401k match, stock purchase plan, maternity and paternity leave, employee discounts, flexible schedules, flexible vacation, and much more.  
The energy revolution is well underway.  And our planet needs it now more than ever. Join us in the journey as we lead a crucial movement toward a planet run by the sun.
Key Responsibilities:
Develop and execute a comprehensive communication strategy that aligns with the company's overall goals and objectives to build brand awareness and customer loyalty

Create informative content, press releases, articles, and media opportunities to share the company's brand, products, and services

Work across teams to develop creative and engaging company storylines for media

Work closely with the senior management team to ensure that all communication is consistent and aligned with the company's messaging

Develop and manage relationships with key stakeholders, including media outlets, industry associations, and internal business partners

Connect with influencers, media, and beyond to arrange story placement on a local and national level

Plan and execute internal communications, including company-wide announcements from executive leadership

Work closely with the executive leadership team to develop strong narrative presentations and content for external speaking opportunities

Prepare briefing materials and manage executive spokespeople

Research and understand key business challenges, customer behavior, target audiences, competitive activity, and environmental factors

Stay up-to-date on industry trends and changes in the media landscape to ensure that the company's communication strategies remain relevant and effective

Work with the company's PR agency and ensure their programs are in line with overall corporate marketing objectives and goals

Assist team members on improving communication skill

Prepare detailed media activity reports on press activities, coverage, opportunities, successes and press feedback
Qualifications:
Bachelor's degree in Communications, Public Relations, Journalism, or a related field

7+ years of experience in corporate communications, public relations, or a related field

Excellent communication skills, including the ability to write and edit clear and compelling copy

A natural storyteller

Strong interpersonal skills and the ability to build relationships with key stakeholders

Experience managing media relationships and developing materials for media

In-depth knowledge of best writing and messaging practices for business correspondence

Ability to work under tight deadlines and manage multiple projects simultaneously

Experience working closely with senior executives as strategic communications counselor on communications strategies and activities

Great project management skills, including time management, goal-setting, multitasking and prioritization

Strong analytical skills and the ability to measure the effectiveness of communication strategies

Possesses a sense of urgency; is self-motivated and detail-minded

Ability to respond appropriately to difficult questions and requests on an immediate basis

Proven experience in working with agencies and freelancers
About Sunrun 
Sunrun (NASDAQ: RUN) is the number one residential solar provider in the country. At Sunrun, we believe America's energy future starts at home. As the energy provider of choice, we integrate solar, home battery storage, and electrification into a smart solution for individuals to power their homes, cars, and communities. Join us in our mission to create a planet run by the sun!
Recruiter:
Amanda Frock (amanda.frock@sunrun.com)
This description sets forth the general nature and level of the qualifications and duties required of employees in this job classification, as well as some of the essential functions of this role.  It is not designed to be a comprehensive inventory of all essential duties and qualifications. If you have a disability or special need that may require reasonable accommodation in order to participate in the hiring process or to perform this role if you are offered employment, please let us know by contacting us at candidateaccomodations@sunrun.com.
Sunrun is proud to be an equal opportunity employer that does not tolerate discrimination or harassment of any kind. Our commitment to Diversity, Inclusion & Belonging drives our ability to build diverse teams and develop inclusive work environments. At Sunrun, we believe that empowering people and valuing their differences will help us create a planet run by the sun for everyone. We are committed to equal employment opportunities without consideration of race, color, religion, ethnicity, citizenship, political activity or affiliation, marital status, age, national origin, ancestry, disability, veteran status, sexual orientation, gender identity, gender expression, sex or gender, pregnancy or any other basis protected by law. We also consider qualified applicants with criminal convictions, consistent with applicable federal, state and local law.