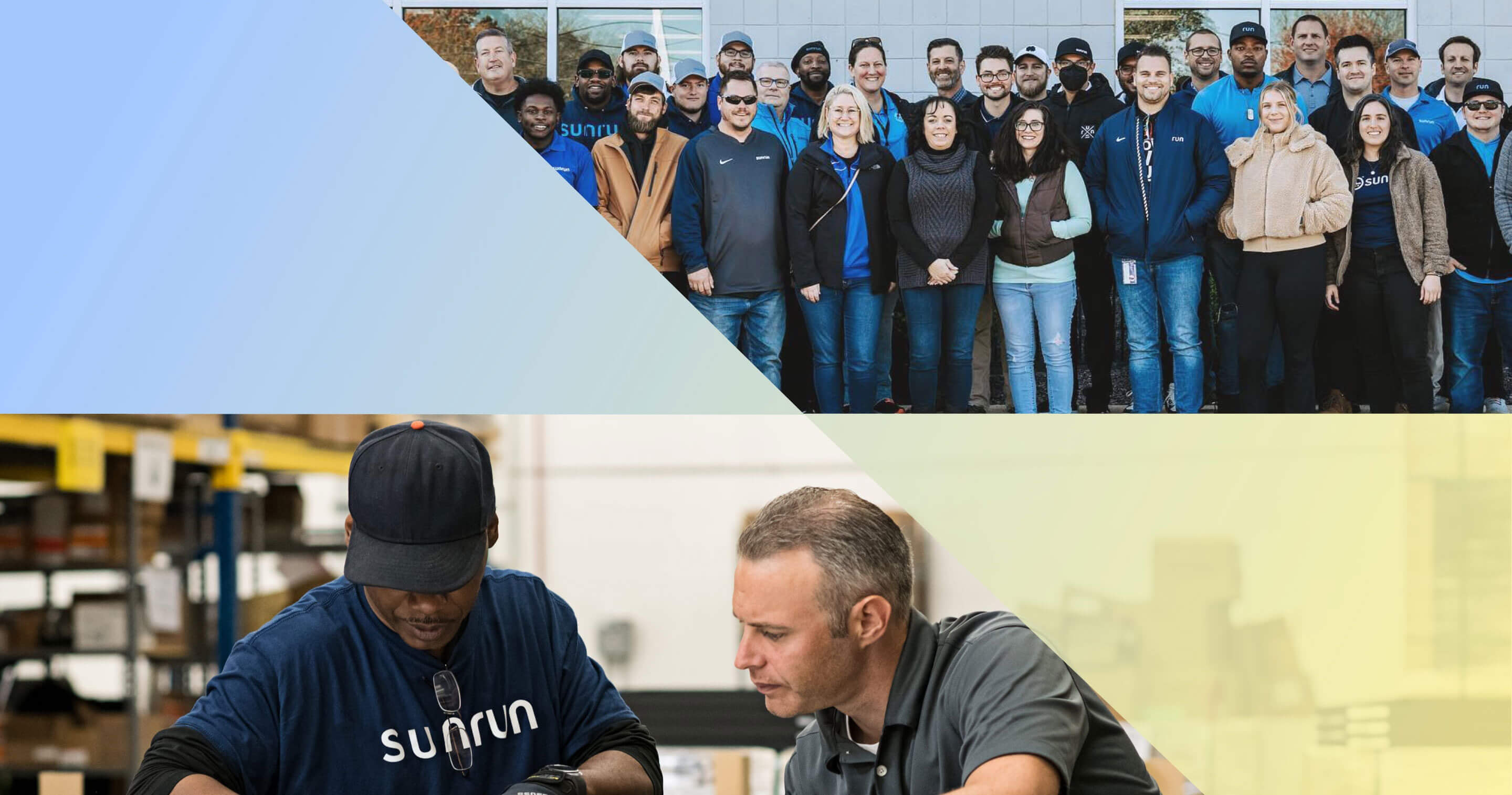 Solar Installer
Location

Redlands, California
Category

Operations
Job ID

R21352
Everything we do at Sunrun is driven by a determination to transform the way we power our lives. We know that starts at the individual employee level. We strive to foster an environment you can thrive in through our commitment to diversity, inclusion and belonging.
Overview
The Lead Installer position is a contributing member of a solar installation construction crew.  The Lead Installer is responsible to work as a team to complete residential solar installation projects. This position will have the additional responsibility of guiding and coordinating fellow installers on a daily basis.
Get recognized for your hard work!   Competitive hourly base pay and lucrative performance incentives through our Nike/Carhartt Sponsored incentive program, The League. You'll earn Nike/Carhartt swag, prizes and amazing trips through the program as well as progress in your career.
Responsibilities
Review inventory at loading dock to ensure assigned crew truck is stocked adequately

Layout and assemble solar modules, mechanical and structural mounts, electrical equipment and tools in preparation of installation

Apply weather sealing to roofing structure, building or support mechanisms

Assemble the racking, solar modules, panels or support structures as specified in project plan

Ensure a clean and orderly job site 

Perform project clean up including client site and installation vehicle

Ensure personal, crew and job site safety at all times

Participate in mandatory training sessions on new products, installation methodology and safety

Lead crew through safe, effective and efficient installations

Provide leadership, technical expertise and support to fellow crew members

When assigned assist with solar battery installations
Qualifications
High school diploma or equivalent

Previous solar installation experience required. Applicants with equivalent construction or military experience may be considered

Must maintain a clean driving record with the ability to pass a driving background check. Must be 21 years of age and possess a valid driver's license.

Adheres to company safety policies and procedures including ability to identify and report safety hazards, and the ability to encourage others to work safely

Ability to establish rapport, build relationships and loyalty with external and internal customers and coworkers, and remains tactful when communicating

Proven ability to meet deadlines and key metrics

Works independently, as a team player, and drives results in a fast paced, team based environment

Must be willing to assist teammates and build strong relationships to achieve company and department goals

Solid logical decision making and troubleshooting skills with the ability to problem solve in a timely and effective manner

Exercises good judgment

Takes ownership of issues or questions and will escalate problems to the appropriate persons and follow up accordingly with the customer
Physical Demands
Ability to transport materials and equipment to complete assigned job tasks (up to 50 pounds frequently and up to 100 pounds with assistance)

Ability to work on rooftops with various angles and surfaces which requires frequent bending, twisting, squatting, climbing, kneeling, crawling, turning, standing, and balance

Ability to work in confined spaces such as attics, basements, and crawl spaces which requires kneeling and crouching

Ability to work in outdoor weather conditions including but not limited to: excessive noise, extreme heat, extreme cold, wet environment, and humidity

Ability to frequently utilize hand functions requiring fine motor skills including but not limited to: fine manipulation, grasping, and pinching

Ability to work within the safe range of equipment such as ladders, fall protection harnesses and other personal protective equipment

Ability to work and maintain balance on roofs and other areas of height

Ability to work in the sun and possibly low light conditions

Ability to walk on rafters, roof tiles, and roof shingles without damage

Ability to distinguish colors such as red, black, yellow, white, green

Ability to hear verbal commands and warnings

Ability to work with chemicals using appropriate protections

5% travel required
Recruiter:
Vanessa Christensen (vanessa.christensen1@sunrun.com)
Please note that the compensation information that follows is a good faith estimate for this position only and is provided pursuant to acts, such as The Equal Pay Transparency Act. It assumes that the successful candidate will be located in markets within the United States that warrant the compensation listed. Candidates in locations outside this local area may have a different  starting salary range for this opportunity which may be higher or lower.  Please speak with your recruiter to learn more.
Starting salary/wage for this opportunity:
$25.04 to $31.30
Other rewards may include annual bonus eligibility, which is based on company and individual performance, short and long term incentives, and program-specific awards.  Sunrun provides a variety of benefits to employees, including health insurance coverage, an employee wellness program, life and disability insurance, a retirement savings plan, paid holidays and paid time off (PTO). A candidate's salary history will not be used in compensation decisions. 
This description sets forth the general nature and level of the qualifications and duties required of employees in this job classification, as well as some of the essential functions of this role.  It is not designed to be a comprehensive inventory of all essential duties and qualifications. If you have a disability or special need that may require reasonable accommodation in order to participate in the hiring process or to perform this role if you are offered employment, please let us know by contacting us at candidateaccomodations@sunrun.com.
Sunrun is proud to be an equal opportunity employer that does not tolerate discrimination or harassment of any kind. Our commitment to Diversity, Inclusion & Belonging drives our ability to build diverse teams and develop inclusive work environments. At Sunrun, we believe that empowering people and valuing their differences will help us create a planet run by the sun for everyone. We are committed to equal employment opportunities without consideration of race, color, religion, ethnicity, citizenship, political activity or affiliation, marital status, age, national origin, ancestry, disability, veteran status, sexual orientation, gender identity, gender expression, sex or gender, pregnancy or any other basis protected by law. We also consider qualified applicants with criminal convictions, consistent with applicable federal, state and local law.