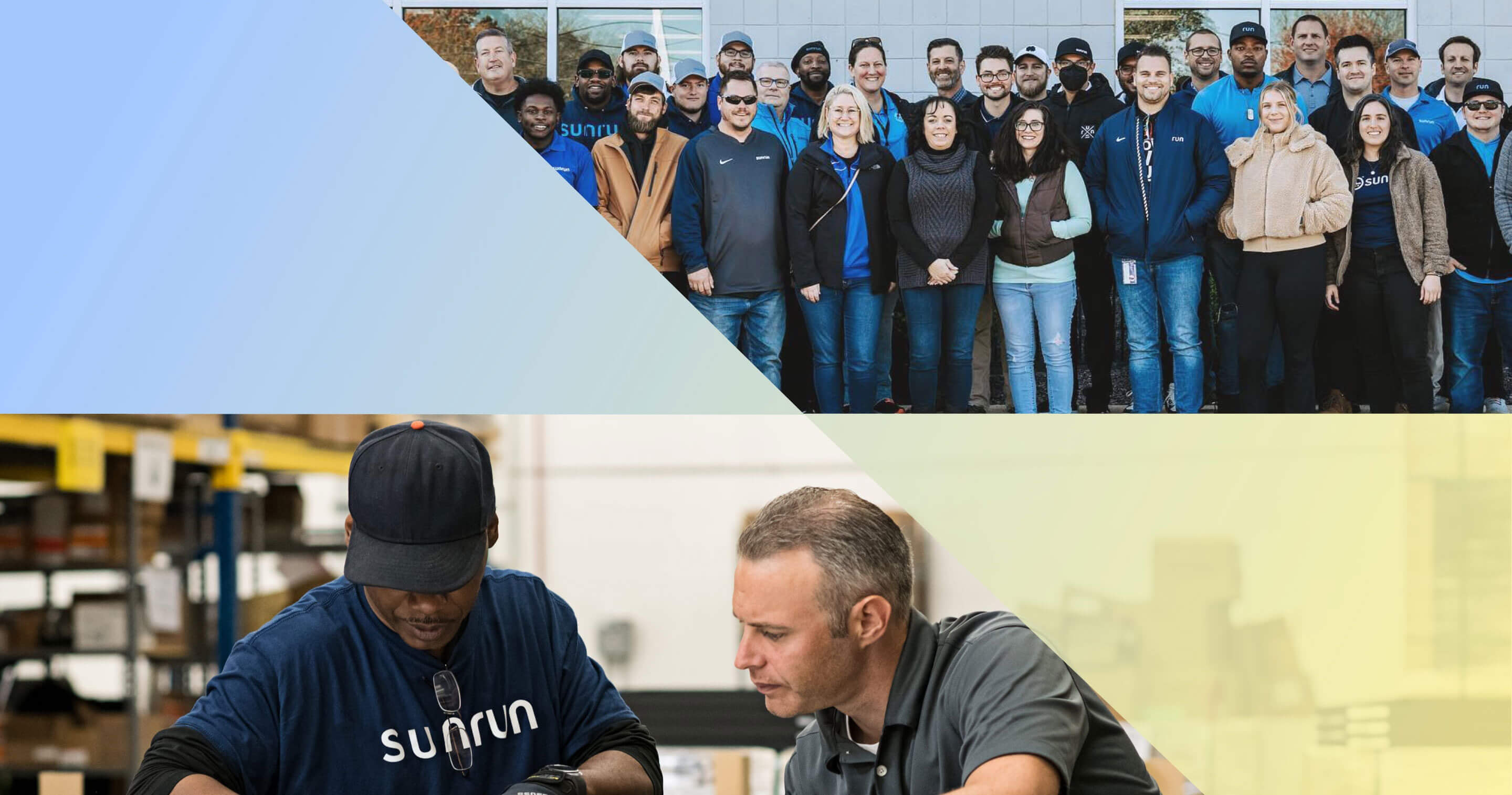 Senior Manager, Internal Audit
Location

San Francisco, California
Category

Accounting & Finance
Job ID

R19367
Everything we do at Sunrun is driven by a determination to transform the way we power our lives. We know that starts at the individual employee level. We strive to foster an environment you can thrive in through our commitment to diversity, inclusion and belonging.
Overview
Sunrun (NASDAQ:RUN) is the nation's leading residential solar, storage and energy services company, creating energy solutions that bring sustainable power to our customers.  We believe there is a better, less expensive, cleaner way for families to power their homes. As a pioneer of the solar-as-a-service model, we are truly saving the planet, one solar panel at a time. Sunrun designs, installs, finances, insures, monitors and maintains the solar panels on a homeowner's roof, while families receive predictable pricing for 20 years or more.
Sunrun is looking for a Sr. Internal Audit Manager to join our growing Internal Audit team, reporting directly to the Vice President of Internal Audit. This role is an integral member of the team, primarily responsible for the planning and execution of risk-based audits of critical areas of the business and providing assurance over key internal controls. It requires a self-starter who is intellectually curious and seeks to understand and improve all aspects of the business.
Our team's mission is to enhance and protect Sunrun's value by providing risk-based and objective assurance, advice, and insight. You will work closely with key internal and external partners to support the implementation of our Internal Audit and Enterprise Risk Management programs. You will have the unique opportunity to gain broad exposure to the operations of the company and build close partnerships across the entire organization.
Position Responsibilities
Assist the VP of Internal Audit in the quarterly efforts to assess organizational risk, develop an Internal Audit plan and complete Enterprise Risk Management reporting. Identify existing and emerging risks through interviewing key executives and/or surveying employees. Ensure clear mitigation strategies for risks with clear assignment of risk and action owner(s); work with those owners to ensure actions are deployed and mitigations are affecting the desired outcomes.

Scope and plan audits based on a thorough risk assessment. Partner with leadership on targeted audits to determine timing and scope of fieldwork.

Design and execute operational audit programs including understanding business processes and underlying systems, conducting interviews and process walkthroughs, and performing audit procedures to assess the operational efficiency and effectiveness of the key business processes.

Ensure that workpapers follow the standards and audit methodology and documentation adequately supports all audit area conclusions and findings.

Prepare an internal audit report for presentation to management, including scope, approach, findings, conclusions, and recommendations.

Communicate audit results to management in a clear and concise manner, including any issues and recommendations for corrective action or improvement where applicable.

Deliver assigned audits and other projects within required deadlines and budget, ensuring the work adheres to the internal audit methodology and delivers the highest level of quality and value-add.

Oversee and track effective and timely remediation of identified control weaknesses; facilitate agreed-upon corrective actions for remediation with respective process owners

Support the SOX PMO Director in executing and/or reviewing a limited number of SOX 404 controls per year.

Build effective working relationships and trust with business partners across the organization.

Identify opportunities to streamline, increase automation and rationalize controls.

Integrate use of analytics throughout planning and execution of audits. Use data to identify risks, support conclusions and substantiate impact of audit findings.

Be able to understand complex business processes and deal well with a high degree of ambiguity.

Interact frequently with functional peer groups at all levels, including senior management, external auditors and external testing consultants.
Qualifications
A BA/BS degree in Accounting, Finance or a related field 

An appropriate certification in internal audit or accounting (CIA and/or CPA)

A minimum 10+ years of experience in an internal audit role; experience with similar internal audit roles in public companies or with Big 4 audit firms highly preferred

Strong understanding of Internal Audit standards, SOX 404, PCAOB Auditing Standards, COSO, and US GAAP, including auditing processes and methodologies and risk and controls standards and business process best practices

Excellent communication, collaboration and presentation skills

Strong analytical, problem-solving and project management skills

Experience using GRC tools such as Auditboard along with Oracle ERP and Salesforce CRM software

Demonstrated orientation to action in a flexible, fast paced work environment with an ability to meet deadlines

Ability to travel to other Sunrun locations to conduct Internal Audit work (approximately 20%)

Renewable Energy enthusiasm or experience
Recruiter:
Amanda Frock (amanda.frock@sunrun.com)
Please note that the compensation information that follows is a good faith estimate for this position only and is provided pursuant to acts, such as The Equal Pay Transparency Act. It assumes that the successful candidate will be located in markets within the United States that warrant the compensation listed. Candidates in locations outside this local area may have a different  starting salary range for this opportunity which may be higher or lower.  Please speak with your recruiter to learn more.
Starting salary/wage for this opportunity:
$137,629.00 to $183,505.00
Other rewards may include annual bonus eligibility, which is based on company and individual performance, short and long term incentives, and program-specific awards.  Sunrun provides a variety of benefits to employees, including health insurance coverage, an employee wellness program, life and disability insurance, a retirement savings plan, paid holidays and paid time off (PTO). A candidate's salary history will not be used in compensation decisions. 
This description sets forth the general nature and level of the qualifications and duties required of employees in this job classification, as well as some of the essential functions of this role.  It is not designed to be a comprehensive inventory of all essential duties and qualifications. If you have a disability or special need that may require reasonable accommodation in order to participate in the hiring process or to perform this role if you are offered employment, please let us know by contacting us at candidateaccomodations@sunrun.com.
Sunrun is proud to be an equal opportunity employer that does not tolerate discrimination or harassment of any kind. Our commitment to Diversity, Inclusion & Belonging drives our ability to build diverse teams and develop inclusive work environments. At Sunrun, we believe that empowering people and valuing their differences will help us create a planet run by the sun for everyone. We are committed to equal employment opportunities without consideration of race, color, religion, ethnicity, citizenship, political activity or affiliation, marital status, age, national origin, ancestry, disability, veteran status, sexual orientation, gender identity, gender expression, sex or gender, pregnancy or any other basis protected by law. We also consider qualified applicants with criminal convictions, consistent with applicable federal, state and local law.