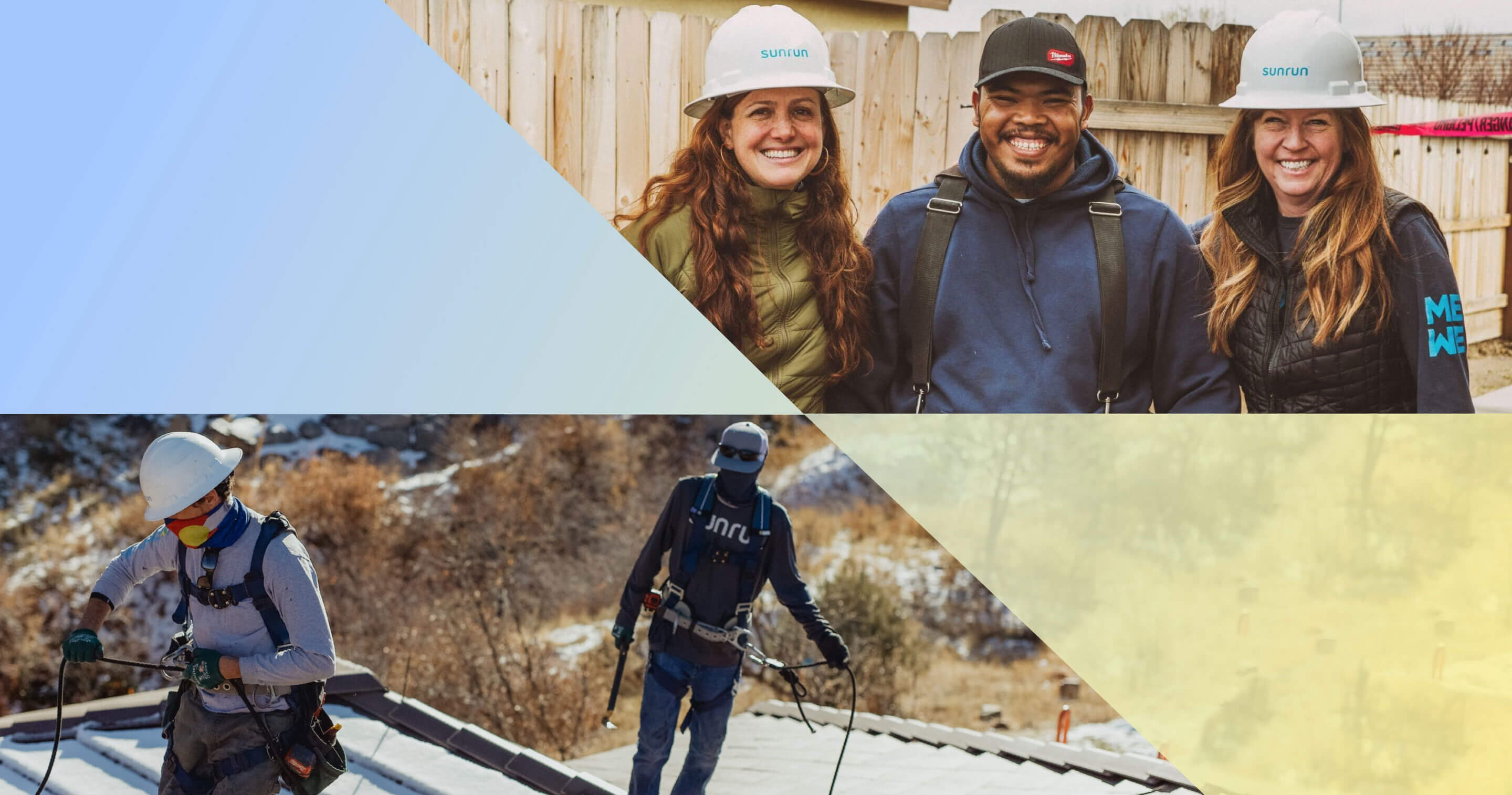 Electrify
Your Career
We exist to give people the joy of clean, abundant energy. It's our purpose and it starts with you.
Explore Your Future
There is a revolution in energy happening - and Sunrunners are leading it. Take your career to the next level with Sunrun. We will partner with you to discover your perfect job match and the tools to advance your career.
Who is Sunrun?
At Sunrun, we know there is a better way. By generating and storing energy in our homes, we can share power across neighborhoods and our entire energy system. We have been building this future for over a decade, and every year it grows brighter. Sunrun is the #1 residential solar company in the US. We revolutionized the solar industry in the United States, powering the homes of hundreds of thousands of solar customers with renewable energy.
We achieve this by powering the potential of our talented, growing and fiercely passionate workforce with impactful rewarding career opportunities.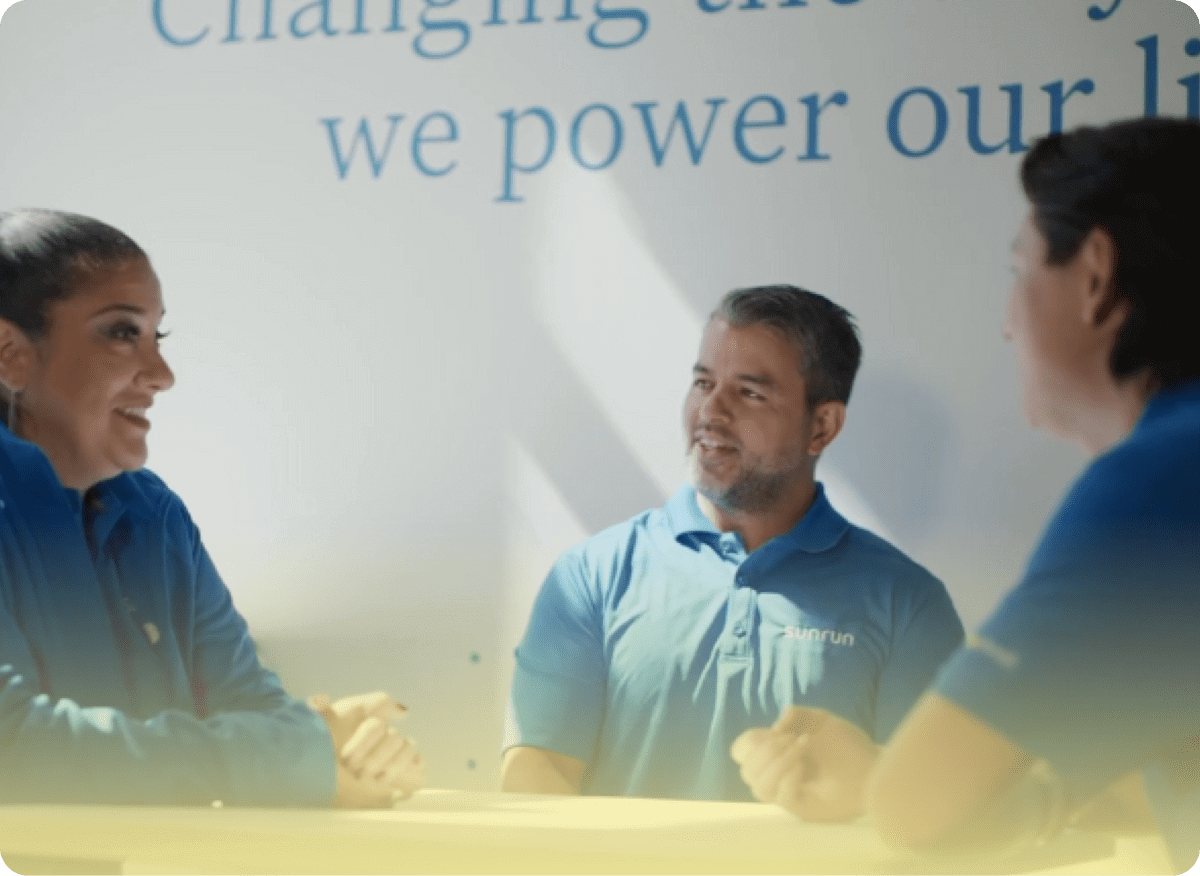 Our Mission
Connect people to the cleanest energy on earth.
We achieve our mission by living our values.
Our Values
We Love People
We Love to Create
We Love to Run
Perks & Benefits
Sunrun offers all full-time employees an array of comprehensive wellness benefits to improve employee health and wellbeing. We keep these benefits cost-effective for employees, regularly leading our industry peers in the quality and the cost of benefit plans.
Education
Beginning day one of employment, you will have access to our 100% employer funded education program for various education and upskilling programs.
Health
Sunrun is proud to offer health benefits that not only provide coverage for illness and injury but also enable you and your family to focus on staying well.
Plan the future
Sunrun helps support your financial wellbeing today and security for tomorrow by offering a number of saving tools.
Take time away
Time away from work is important in maintaining your overall wellbeing. We support you in taking appropriate time off to keep a healthy work life balance.
Wellbeing
Sunrun wants you and your family to be happy and healthy. No matter what your wellness goals are, we're here to support you and your wellbeing.
Culture of Belonging
Backed by senior leaders, our Employee Resource Groups (ERGs) are led and brought to life by talented Sunrunners who care about making Sunrun a more inclusive place. By joining an ERG, you'll help shape company initiatives, network with leaders across the organization, and participate in events.

Arab/MENA+

Asian+

Black+

Disability+

Latinx+

Pride+

Veterans+

Women's+
Making Solar Inclusive For All
At Sunrun, we believe that empowering people and valuing their differences is essential for our mission to create a planet run by the sun. That's why we strive to make solar inclusive in our workforce, workplaces, and the industry as a whole.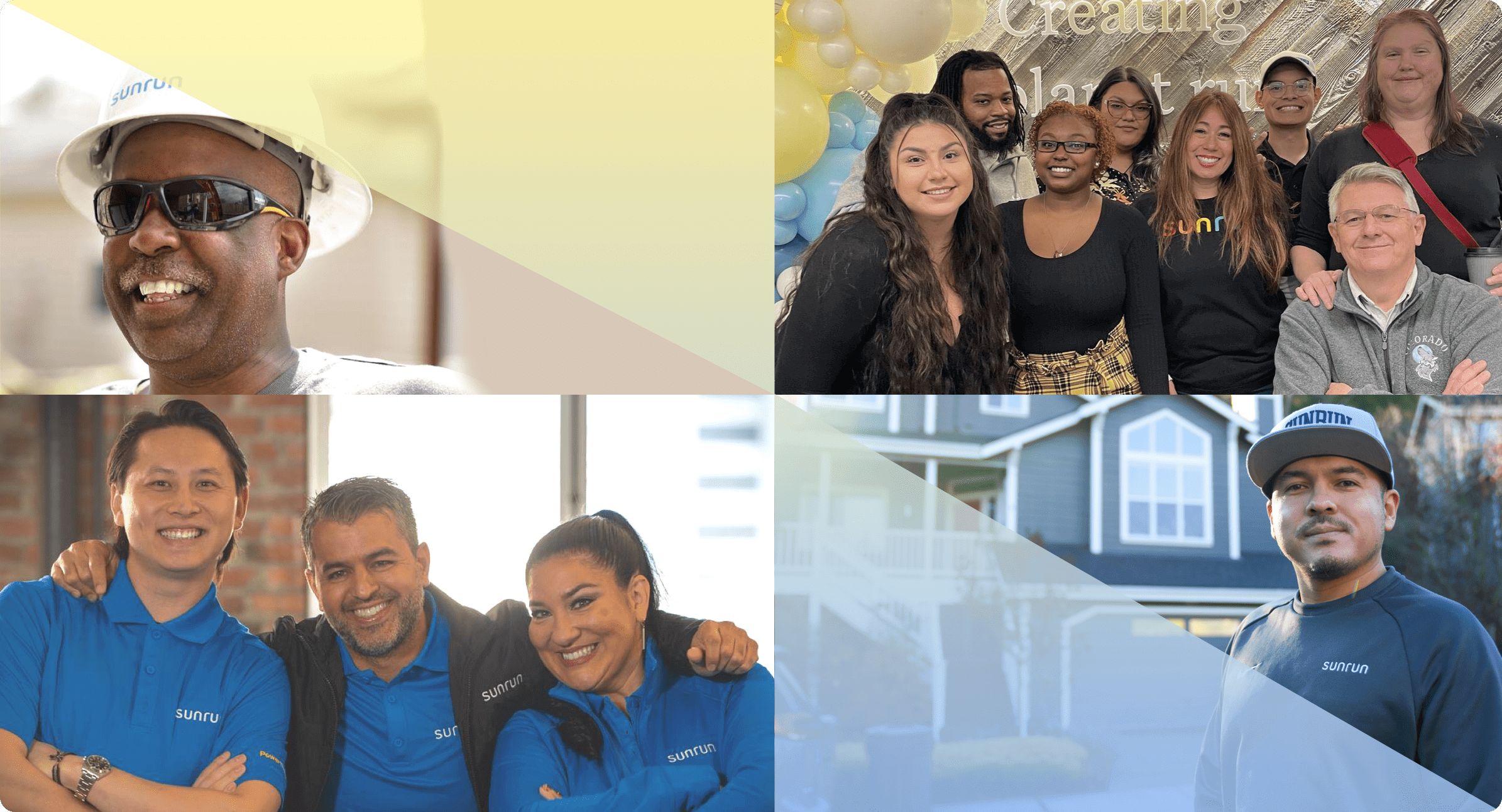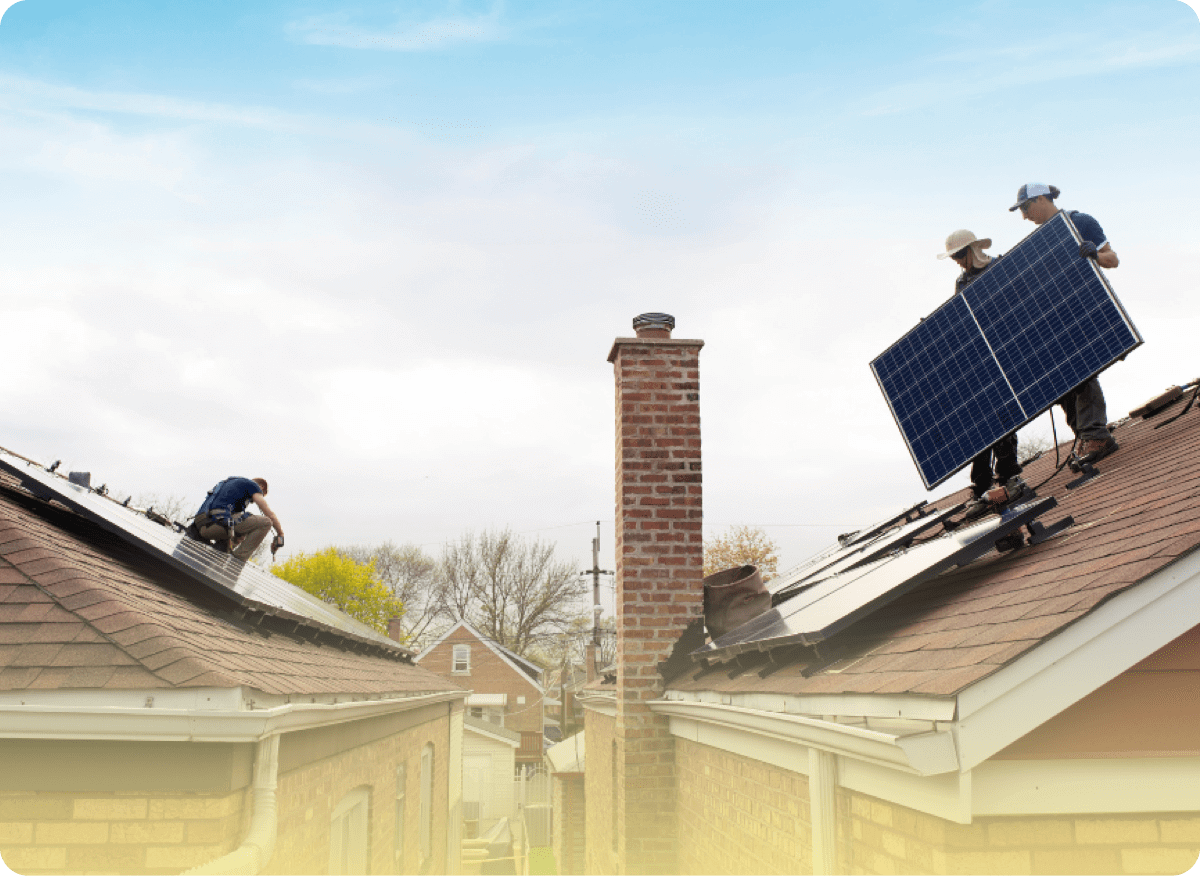 At Sunrun, Everything Starts with Safety.
Sunrun believes access to a healthy and safe workplace is a fundamental human right. Ensuring the safety of Sunrunners, our customers, and local communities is Sunrun's top priority, and we provide best-in-class training and tools for our employees.
Your Next Mission: Sunrun
Our diverse talent community empowers us to fulfill our mission of making local, clean energy accessible to everyone, and our veterans and their families add to this power.
The leadership skills, passion and teamwork found at the core of our veterans align with our mission and we are honored to support the military community as they transition back into civilian life.
Each Transition back into civilian life is unique. Our Military Recruitment Programs can help you find the path that will lead to your next mission.